NZPPA develops relationships with related professional industry groups to work together in progressing our similar interests, aims and objectives.
*In some cases NZPPA has arranged special reciprocated benefits for NZPPA members with our partners.
Our Partners Are: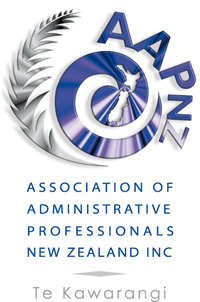 ASSOCIATION OF ADMINISTRATIVE PROFESSIONALS NEW ZEALAND INC (AAPNZ) TE KAWARANGI
"Our Association encourages personal and professional administrative excellence within a global network".
Founded in Wellington in 1972, the Association of Administrative Professionals New Zealand Inc – Te Kawarangi (AAPNZ) embraces all administrators to advance and enhance their personal and professional opportunities.
Many people are making a career in administrative roles and the breadth of demands and skills required is increasingly acknowledged by the public and employees. With our rapidly changing office environment, it is even more important these days to upskill and stay in touch with your profession through its professional organization.
AAPNZ has 12 groups nationwide offering fantastic networking with similarly experienced professionals; access to wonderful training opportunities; and recognition of members' achievements. Members include recent newcomers to the progression through to experienced administrative professionals, both male and female.
Our membership includes executive assistants, personal assistants, administration managers, receptionists, call centre operators, accounts staff, school secretaries/administrators, industry trainers … anyone involved either full time or part time in administrative professional roles, in any industry.
Internationally, AAPNZ is an associate of numerous Administration Professional Associations and there are opportunities to attend overseas conferences and learn how others operate in similar roles to ourselves.
Check out our website for more information…www.aapnz.org.nz
*NZPPA members can go on AAPNZ courses and events at AAPNZ rates and vice versa