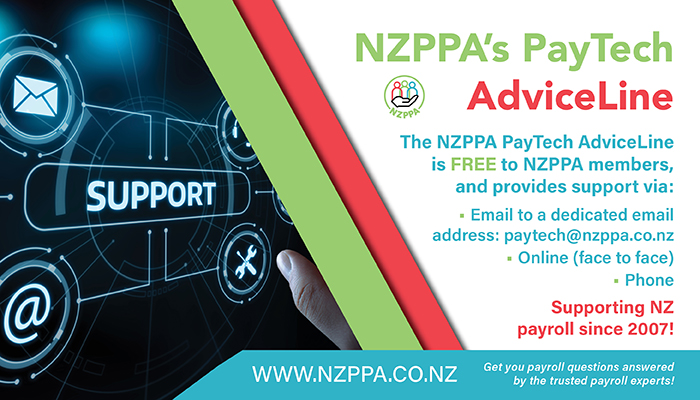 Having trouble trying to work out the rules in regard to how to pay employees, want to know the difference between what the law says and what has been agreed (in plain language), PayTech is here to help!
PayTech allows you to enter a question through email that is answered with 24 hours.
If you are an NZPPA member this service is FREE.
If you are not an NZPPA member you can still use PayTech but

fees will apply (see below).
If you are an existing member of NZPPA click on the button below.
Paytech Member
(NZPPA members MUST logon to access PayTech)
If you are not an NZPPA member
click on the button below and a charge will be applied before you can ask your question (see below).
*If you want a quote on the potential cost click here
PayTech Charges for a Non NZPPA Member
To use the PayTech service as a casual user a charge of $275 plus GST will apply. For this the casual user will be able to ask up to THREE payroll related questions, at the one time (additional charges may apply based on the complexity and work involved in answering the question, see Terms and Conditions below).
Terms and conditions
By selecting the PayTech (Non Member button) you agree to the following terms:
1. NZPPA takes no responsibility in regard to the answer provided to the user of this service.
2. Payment of PayTech questions are through credit card (Only VISA & MasterCard are accepted). If another payment method is required NZPPA will only answer the question once the payment has been received and confirmed.
3. Once a question has been asked and paid for NZPPA will answer the question within 24 hours, (as long as all follow up information that may have been requested has been provided to NZPPA). If NZPPA does not answer the initial question within 24 Hours then a full refund will be provided (within 24 hours) and the question will be answered for FREE.
4. NZPPA has the right to ask for further charges to be applied to the question or questions asked based on the complexity or work involved in answering the questions submitted. At the time the question is submitted NZPPA will state if they believe the question is of complex nature. Please ask for a quote if you believe your question is of a complex nature.(see email link above)
5. You agree that any question submitted and its answer once provided can be used in NZPPA training material and other payroll reference material. NZPPA agrees not to include any reference to you or the business you represent in using your question or answer. If you have a concern on this contact: [email protected]