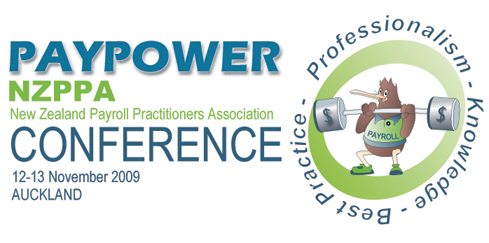 The New Zealand Payroll Practitioners' Association 2nd annual conference was held on Thursday 12th and Friday 13 November 2009 at the Ellerslie Event Centre, Auckland Racing Club, Auckland City. Ninety payroll professional met over the two days to learn, network, and help in the development of the payroll profession.
Conference Theme
The theme of our second conference was \"Payroll Power – Professionalism, Knowledge and Best Practice\".
Professionalism – what do we have to do to be payroll professionals and how this will shape the profession going forward.
Knowledge – looking at the latest in legislation, trends and new developments that impact on payroll.
Best Practice – payroll activities are cost and time effective, can be measured and benchmarked.
Conference Programme
Running with the theme of this year's conference Payroll Power – Professionalism, Knowledge and Best Practice we were able to secure a range of excellent well sought after speakers.
Please click on this link to see the Provisional Conference Programme
Click here to view NZPPA Conference Speakers 2009
Click here to view the NZPPA Conference Presentations 2009
Main Conference Sponsor and conference venues
Without the support of the following sponsor and vendors the conference could not have been a success. We thank the following companies for the support.
Gold Sponsor – PayGlobal
NZPPA is happy to announce that PayGlobal is the Gold Sponsor of this year's conference. With their support we are able to offer the conference are a very cost effective price.
We would like to thank PayGlobal for its ongoing support of the payroll industry.
For more details on PayGlobal and the other vendors at this years conference please click here
Conference Payroll Vendors

Affinity Employee Services provide innovative technology and services that empower your people with access to technology and information so they may, reduce employee costs, optimise and build capability to increase profits.
Our fully integrated application is easy to use and designed to reduce effort allowing more time for strategic activities. We use our application to provide payroll service and produce over 1,500,000 pays to enterprises Trans-Tasman.
Further details contact Jason Black on 0800 729 633

Is your organisation sick of manual payroll data entry, and spending too much administrative time handling employee leave requests? Not to mention all of the associated tasks such as filing, collating and faxing pieces of paper?
TimeFiler is a flexible timesheet management application featuring 100% online access, automated data entry, payroll integration, customisable rules and layouts, real-time reporting and e-mail alerts.
TimeFiler provides companies of any size with a single solution for rostering, leave requests and timesheet management accessible from any computer with an internet connection. TimeFiler reads employee data from your existing Payroll system, so data is maintained in just one place.
Contact TimeFiler to discuss your requirements and
arrange a free, no-obligation trial.
Telephone: 0800 846 334
E-mail: [email protected]
Web: www.timefiler.com

IMS Payroll has provided quality payroll solutions to over 10,000 NZ businesses since 1983. With a large network of accredited resellers throughout the country, IMS is one of New Zealand's leading payroll software providers.
TimeFiler is an innovative timesheet and leave request system that allows employees and/or managers to fill in timesheets online. With customised warnings and alerts, automated payment calculations and e-mail alerts, TimeFiler significantly reduces errors and data entry time.
IMS Payroll and TimeFiler announced a strategic business partnership in February 2009. This partnership offers IMS Payroll's clients a highly value-added online timesheet and leave request system that is fully integrated with their existing Payroll system.
Clients such as Medlab, Presbyterian Support, Lighting Plus and Outdoor Holdings are enjoying the best of both worlds – a reliable, affordable and proven payroll system, as well as online timesheets and leave requests allowing employees and managers to do away with the paper and other manual processes – and get it right, first time.
IMS and TimeFiler are committed to providing clients with a solution that takes the hard work and errors out of the payroll process. With full system integration between IMS and TimeFiler, clients are quickly taking advantage of the benefits the complementary systems have to offer. Quite simply, they are the perfect match in payroll processing.