NZPPA's Certification Framework
Initial NZPPA certification should be sought at the appropriate level according to the Certification Matrix. Progress to a higher level of NZPPA certification can only be awarded if the payroll practitioner can show through the assessment process that they have fully completed the requirements of any previous certification level based on the Certification Matrix.
NZPPA Certification levels: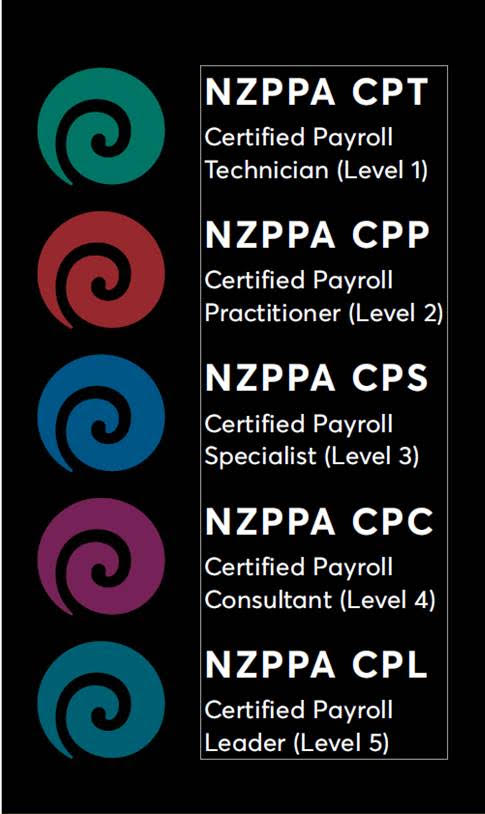 Certified Payroll Technician (Entry Level) – CPT
Certified Payroll Practitioner (Intermediate Level) – CPP
Certified Payroll Specialist (Advanced Level) – CPS
Certified Payroll Consultant (Advanced Level) – CPC
Certified Payroll Leader (Leadership of Payroll) – CPL
Please Note: NZPPA Certification is not based on position title as a title cannot determine payroll skills, knowledge, and experience.
Certification caters to different payroll environments
Certification levels are not based on a payroll position title it is based on payroll skills, knowledge, and experience. Payroll practitioners depending on the type of payroll environment may do some if not all payroll tasks but at different levels of complexity and NZPPA certification takes this into account.
For instance: a sole charge Payroll Officer may manage a complex payroll and cover all the requirements that a Payroll Manager may have responsibility for in a payroll team (minus the leadership of team members).
NZPPA Certification Levels
NZPPA Certification Levels: Certification Type
Label
Certification Level
Certification description
Qualifying Period
Certified Payroll Technician
CPT
Entry

Can run basic payroll processing steps, under supervision or within their prescribed authority.
or
Performs part of the payroll process, or other payroll tasks, under supervision or within their prescribed authority.
Understanding of Payroll Legislation

Certified Payroll Practitioner
CPP
Intermediate

Can run a payroll end-to-end at an intermediate level under supervision or within their prescribed authority.
Excellent Understanding of Payroll Legislation

Certified Payroll Specialist
CPS
Advanced

Senior Practitioner who manages payroll, end to end at an advanced level
Proficient Understanding of Payroll Legislation
Interacts at a senior level within the business

3+ years CPP
More than 6 months in the role
No direct reports

Certified Payroll Consultant
CPC
Advanced

Can implement & configure payroll processes and payroll system criteria and resolve complex payroll issues*.
Sound knowledge of audit and review processes to mitigate errors and risk
Proficient Understanding of Payroll Legislation

3+ years CPS
More than 6 months in the role

Certified Payroll Leader
CPL
Leadership

Meets all the requirements set at the previous certification levels (CPT, CPP) and may have consulting experience under CPC (optional)
Leads and manages staff in a payroll environment.
Sound payroll knowledge and experience that enables complex payroll issue resolution
Experience with implementing audit and review processes to mitigate errors and risk
Proficient Understanding of Payroll Legislation

3+ years CPS
1 or more direct reports
More than 12 months in a leadership role