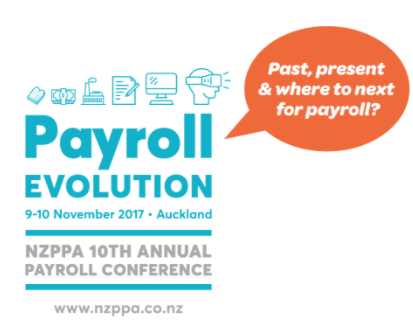 The New Zealand Payroll Practitioners' Association 10th Annual Payroll Conference will be held on Thursday 9th and Friday 10th November 2017.
The NZPPA annual conference is the largest two-day payroll event in New Zealand and every year it gets bigger and better. We are expecting 130+ attendees this year.
The NZPPA's conference is in its 10th year and we do want to celebrate this milestone (there will even be a birthday cake!).
*Please note that this web page will be updated on a regular basis as details are finalised.
CONFERENCE THEME
The theme of our tenth conference is: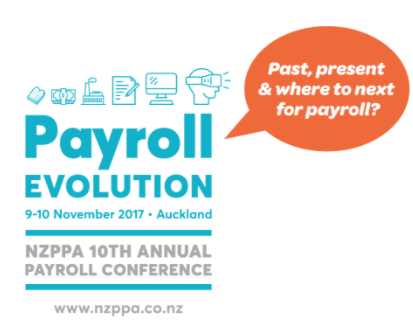 The theme for this year's conference is – Payroll Evolution (past, present & where to next for payroll?)
Payroll is developing all the time to fit the needs of the businesses it serves while still always ensuring employees are paid correctly and on time.
A brief history of payroll:
Payroll can be traced back to 7000 BC.
Bookkeeping was developed by merchants to keep track of their sales and outgoings.
Paying public officials was developed by the Greeks as their society became more complex.
Payroll as we know it become a distinct activity from the onset of mass employment that came about following the Industrial Revolution.
The first computerised payroll systems appeared in the 1950s to handle clerical tasks and later payroll services, but these were only really for large-scale businesses and government payroll.
New Zealand payroll was still heavily focused on paper-based systems until the late 1980s.
Mainstream and affordable computerised payroll systems become available from the 1980s onwards.
The use of the internet, web-based payroll applications and the cloud are new developments for payroll.
So where to next…?
Payroll Evolution will provide an insight for conference attendees into:
where payroll has come from (so we can learn from the past)
where we are now (so we learn from the present)
where payroll is going in the future (so we are prepared and make the right choices for our payroll).
The 10th Annual Payroll Conference will provide practical and usable information, with plain language resources that can then be used back in their workplace to develop your own voice within your business.
This event will suit:
All payroll professionals in any payroll environment.
Existing, upcoming or new payroll managers and team leaders.
Managers of payroll staff that want to hear payroll needs more effectively.
Introducing the New Zealand Institute of Payroll Incorporated

At the conference, we will also be introducing the New Zealand Institute of Payroll Incorporated (NZIPI). The Institute has been formed to act as the management body for payroll and will set the direction for NZPPA's activities going forward.
NZPPA funds the NZIPI (through a levy on all NZPPA's activities) and provides all its administration services for FREE.
At the conference, we hope to either announce the management committee and the chair of this new incorporated society or promote its first election (subject to timing).
All NZPPA members are automatically members of NZIPI and have voting rights.
The new NZIPI website will be up and running shortly (www.nzpayroll.org.nz).
2017 CONFERENCE PROGRAMME
The aim of the conference is not to be a talkfest we aim to have this year's conference as interactive as possible over the two days.
Please note: Conference programme will be release on the 2 October 2017
Some of the features of this year's conference:
At this year's conference, there will be 12 workshops running alongside the main conference programme. Attendees will be able to do two of the three workshops being offered in each workshop set (attend 8 of the 12 workshops).
Latest updates to legislation especially the Holidays Act 2003 and what on the horizon for payroll.
A range of technical experts in their fields (all speakers will have time to answer questions).
Short sharp payroll topics run in the main conference programme
Interactive Q&A where you can submit initial questions prior to the conference and ask follow up questions
Case studies from payroll practitioners providing practical real advice.
Gift pack full of goodies.
Buffet dinner (5.30 pm – 8.30 pm) with exciting laugh out loud entertainment on the Thursday night (we are planning something extra special for this year)
Our morning breakfast event sponsored by Ramco will have some interesting speakers to start the second day of the conference.
Quality venue and of course food!
Being able to interact directly with some of the top payroll suppliers in NZ at the Payroll Expo.
Quality MC and a special motivational speaker.
The ability to interact with government agencies directly for support and advice (subject to availability).
To interact, learn and network with your peers.
FREE airport shuttles for all the out of towners.
Help build payroll as a profession.
And as usual you get a top-notch conference at one of the most cost-effective prices (discounts will also be available for more than one attendee).
ALSO FOR ALL DELEGATES TO HAVE FUN! & NETWORK WITH THEIR PEERS
Click here to see the FINAL conference programme
WHAT CONFERENCE WORKSHOPS ARE RUNNING THIS YEAR?
A change to this year's conference programme will see all workshops running on the second day of the conference instead of spread across the two days.  This allows for better management of workshops over the day.  Conference attendees will be able to select 9 of 12 workshops. This means you select the workshops important to you.
We are lucky to have access to some of the top SME's in the payroll industry to pass on their skills knowledge to attendees.
MC & SPEAKERS FOR THIS YEAR CONFERENCE
MC FOR THIS YEARS CONFERENCE -BEN HURLEY
Star of hit TV3 Show 7 Days – Ben Hurley is one of the success stories of New Zealand stand-up comedy. Winner of the two biggest comedy awards in New Zealand, the 2004 Oddfellows Billy T award and the 2008 Fred Dagg award, Hurley is a headline act in New Zealand but also on the highly competitive UK circuit. In 2008 he supported Irish superstar Ed Byrne on a 70-date sell out tour of the UK and Ireland.

With a massive but hugely likeable stage presence, Hurley can win over even the toughest room. A sharp improvisational mind and well-honed original material make Hurley a popular act with audiences and critics alike.

One of the few Kiwi acts to be invited to perform on the prestigious Comedy Store TV show shown on the Paramount Comedy channel. Also, one of the stars of the UK Festival Circuit playing to thousands in the comedy tents at Reading and Leeds Festival, Bestival and Latitude. In 2008 Hurley starred along side British comic, Andy Parsons, in a new BBC Radio 4 sitcom The Lost Blog of Scrooby Trevithick.

One of New Zealand's best-travelled comedians, Ben has wowed audiences in 10 countries including Switzerland, Dubai, Spain, Australia, Singapore and Bahrain.
SPECIAL MOTIVATIONAL SPEAKER – ALLISON MOONEY
An international speaker of vast experience, Allison has not only gained respect, but built a powerful brand, inspiring many high profile companies. Allison is valued for her ability to engage an audience and give practical effective business tools that ensure buoyancy and resilience. Her presentation style makes for a fun and entertaining program, and more importantly, the uncomplicated content generates greater retention and application. The topic is universal in its content so can be applied across all industries and professions.

Regardless of what organisation we are in, the common thread is that we all deal with people. Business transformation occurs when we understand, respect and celebrate each others' differences. By understanding what motivates us, we find greater significance in who we are, and value in what we do, resulting in greater productivity.

Allison is valued for her contribution in providing an effective business tool, particularly around staff retention. By using this tool, business leaders sleep better at night, eradicating personality clashes, and sick days often inherent when working with people, which costs organisations time and money.

"Allison understands people like fishermen know their fish!"

Her 'call to action' challenges any audience to significantly increase their own performance capability, while constantly improving the quality of their lives, and the lives of those they come in contact with.
MAD CAP MURDER MYSTERY MAYHEM
Conference buffet dinner 9 Nov entertainment (relax after a hard day at conference with a wonderful meal and a side order of murder)
Welcome to a murder, the scene is set, an amateur sleuth, Femme fatal, jealous wife, business rival and a creepy butler…only one thing is missing; a corpse – *screeeeaam*

This a hilarious fun packed evening spaced between courses with entertainment, song, introductions, a murder, various acted out scenarios, audience participation, question time and improvised comical events. After the main, guests will write down whom they believe the murderer or murderers to be and reasons why. After Desert the winning answer and murder or murders will be revealed…and who will get their just deserts?

Be prepared for a good laugh…at the expense of the dead!!
Breakfast Event (10 Nov, 7.40 am to 8.30am) sponsored by RAMCO
To start the second day of conference, enjoy your breakfast and learn about the future of payroll!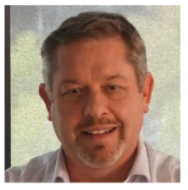 James Hoal 
HR & Payroll Technology Leader
Robotic Process Automation(RPA) in Payroll : How RPA & AI are Re-Inventing Payroll
James is an experienced professional in HCM & Payroll Solutions. He has over twenty years of consulting experience in HCM and Payroll technology across a wide range of industries and systems including tier 1 applications. James has led many large HCM and Payroll transformation projects that span multiple countries. His areas of expertise include Human Resources, Talent Management, Payroll, Time & Attendance, Learning Management including User Adoption Programs and Change Management.
Understanding technology and having the ability to apply it to better serve the organisations has always been of keen interest to James. Understanding User Adoption and how to remove potential roadblocks in this area, is also an area that is a focus.
James is who is motivated by transformational change and breakthrough in technology. This session will focus on how technological innovations like is Robotic Process Automation(RPA) and Artificial Intelligence (AI) are transforming the world of Payroll professionals, both globally and in New Zealand. With mobility, artificial intelligence (AI) to predicative analysis in play, how can advancement in technology be leveraged for business benefit? Get a peek into how these innovations are driving the realm of payroll professionals mainly in the area of payroll risk management, controlling payroll leakage, leave theft and ultimately achieving data accuracy contributing to better compliance and reporting.
Hear from the expert, where the next generation of Payroll Technology is heading!
CONFERENCE SPEAKERS
NZPPA has always be able to get the top speakers and SME's for the main conference programme and workshops run over the two days of the conference. 
Speaker: Mark Lawlor
Partner
Duncan CotterillBio: Mark specialises in employment law and health and safety. I have particular expertise providing strategic advice to employers, senior executives and human resource managers on complex and sensitive matters. I have extensive experience as an advocate in personal grievance claims, conducting private negotiations on behalf of clients, and appearing before the Employment Relations Authority and Employment Court.

I have advised some of New Zealand's leading organisations and iconic brands on all aspects of their employment needs. I have a strong base of knowledge across a number of industry sectors, including IT, manufacturing, FMCG, insurance, logistics and education.

Many of my clients do business in New Zealand and Australia. I have relationships with a number of Australian law firms and work closely with them to ensure that mutual clients receive strong advice across their trans-Tasman operations.

 
Speaker: Barbara Houlbrooke
Payroll & HRIS ConsultantHoulbrooke Group Limited
Auckland

Bio: Barbara has been working in the payroll and financial area for over 30 years. She has used and implemented payroll, time and attendance and human resource solutions, and has been a member of NZPPA from the start. Barbara's payroll experience includes roles as an end user, manager and consultant. She has worked with many software solutions across multiple industries and with payrolls numbering from 5 to 10,000 employees. Barbara has completed solution requirements, RFP and scope documents, process analysis and improvements, system and compliance audits for clients. Recent engagements have involved Holidays Act compliance reviews and remediation.

Barbara is passionate about getting payroll right and her hands-on approach and experience ensures projects are successful.

Speaker: Ian Johnson
Director
TimeFilerTitle: Getting a new system? How to deliver a successful project.

Bio: Ian Johnson is a founding director at TimeFiler. With over 500 customers implemented across New Zealand and Australia, Ian and his colleagues have worked on projects for customers big and small, complex and simple. Join Ian for an open forum on how to achieve a successful rollout of your next payroll, HR or T&A project. This is an open forum opportunity for you and your peers to share experiences, what worked, what you'd do differently and what to look out for, as well as some insight from a vendor's perspective.

Speaker: Pip Cavanagh

Bio: Pip Cavanagh has 22 years' experience in the recruitment industry. 18 of those running the boutique office support recruitment agency Cavanagh & Associates.
Originally from the Wairarapa Pip brings a down-to-earth, no-nonsense, hard-working approach and enjoys gaining a deep understanding of the needs of the client and candidate to achieve the best winning fit.
Pip prides herself on quality service, seeking to work with people who share her values in focus, quality, integrity, adaptability and perceptiveness. It is these values that allows for the winning formula for the CLIENT, the CANDIDATE and Cavanagh & Associates.
Offering a range of recruitment solutions including Permanent, Contract and Temporary staff, Pip and her team are your recruitment solution.

Speaker: Chris Mar (Manager – Strategy & Compliance, Datacom Employer Services)

Bio: Chris has been with Datacom for nearly two decades and was the driving force behind the successful construction and implementation of Datacom's Enterprise Payroll product DataPay as well as being the lead behind the rejuvenation of our 15 year old Cloud Payroll system NetPay, specifically designed for the SME market.
Chris now works on our business strategy and, in particular, the legislative compliance of Datacom's payroll products and services. Chris is on several government working groups related to tax calculations and employment law in Australia and New Zealand.

 
Speaker: Justin Ryan. Director EzyPay Limited

Bio: Justin Ryan is the Director of Christchurch based, Payroll Management firm Ezypay Limited. He has been involved directly with payroll since stumbling into the industry straight out of University. Various roles included Sales, Implementation and Training on the Comacc Payroll (now MYOB EXO), Sales & Bureau Management at PayGlobal and for the past 10 years he has bene fulltime with Ezypay.
When not working he enjoys the odd Craft Beer and you will often see him out on his motorbike, he keeps one in both Hemispheres.

Speaker: Angela Grylls

Bio: Angela Grylls is currently working as a consultant for NZPPA and is also a member of the CLS advisory board. She supports learners studying online with NZPPA, and is helping David in other areas.
She has a vast amount of payroll expertise behind her and spent 9 years working for APN News & Media, a large Trans-Tasman media company, where she held the challenging role of Trans-Tasman Payroll Manager.
She has also carried out consulting work for others and prior to this Angela has worked in Payroll, Accounting and Health & Safety roles for a number of years
She spends her spare time at the beach – Pataua North – fishing, relaxing and catching up with friends and family. Oh and maybe a couple of wines as well!

The Farmers Trading Company Limited

Title: Farmers Payroll Journey
Speaker: Lisa Black, Payroll Manager

Lisa joined Farmers TeamPayroll in 2015. Lisa is passionate about finding better ways to do things. Encouraging and growing the team to be the best that they can be. The team is on a journey to make a big difference to the way their customers and business value the payroll advisory service. They have a business relationship that has spanned 18 years with payroll provider Datacom and have developed a pro-active relationship and together have updated and implemented new and efficient payroll processes, which is turn has ensured accuracy, which is vital when working with people's pay! The team completed a review of the payroll past, present and future which they are delighted to be able to share with you.

 

Assisted by: Dianne Coe, Senior Payroll Advisor

Dianne has achieved 22 years' service with Farmers. Has gained a wealth of payroll knowledge from working at the store to transferring to support centre. What Di doesn't know about payroll isn't worth knowing! She has a real understanding of customer needs and how important effective communication can be.

Speaker: David Jenkins, NZPPA CEO

Bio: David has been involved in payroll for well over 20 years and formed NZPPA back in 2007.
He loves payroll people and is committed to gaining recognition for the important work payroll professionals do and in getting payroll seen as a profession in New Zealand.

David is the author of the NZPPA Payroll Practice Guide and writes frequency on payroll issues (posting mainly in LinkedIn) and designs all NZPPA training and resource material along with supporting the PayTech AdviceLine and is and has been involved in auditing some of the largest and most complex payrolls in New Zealand.
More speakers will be announced shortly.
TBA 2nd October 2017
THIS YEAR'S CONFERENCE SPONSORS AND EXHIBITORS
Without the support of our sponsors and exhibitors we could not provide our conference with all the trimmings and at the cost to our members. We are lucky to have the support of some of the top payroll and service providers and we encourage you to visit their stands at the conference and by clicking on their logo shown below their company websites to find out more about their product and services.
Sponsors at this year's conference
Platinum Sponsor
NZPPA is proud to have Datacom a long-standing supporter of the payroll industry and in developing payroll as a profession as the Platinum sponsor for this year's conference.

When it comes to payroll and HRIS, you need a system that meets your needs, but which you can get up and running without significant investment in consultancy, customisation, hardware and software. At the same time you want a system that can easily be integrated with other related systems in place at your organisation.
Datacom payroll has developed a range of products to easily control your payroll. Whether you're a small, medium or large business; we have a pay system just right for your organisation.
NetPay® – Simplified payroll for small businesses.
EasiPay® – Outsourced payroll for businesses of all sizes.
DataPay® – Sophisticated payroll and HRIS software.
Our pay systems are cloud based, so you don't need to invest in hardware and software. You only pay for what you use, with simple charging that includes all maintenance, support and upgrades without hidden cost. Implementation is also straight forward and the system is easy to customise to suit individual needs. You will always be using the latest version of our software and will never need to plan an upgrade again.
Datacom processes the payroll for over 250,000 Australasians and we are our own biggest customer. We have therefore been able to design DataPay® to be the most efficient payroll software available.
Datacom has been offering payroll and HRIS systems and services for nearly fifty years and has offices in all major cities through Australia and New Zealand. Let us provide you with a payroll and HRIS system that you will never grow of and that will leave you with more time for business.
Visit www.datacompayroll.co.nz
Gold Sponsor
We are proud to announce that Ramco is out Gold sponsor for this year's conference.

Part of the USD 1 billion Ramco Group, Ramco Systems is one of the fastest growing software companies which provides a uniquely integrated software covering core HR, Time & Attendance, Talent, Recruitment, Planning & Analytics along with NZ Payroll solution. Trusted by 450+ customer organisation globally, supporting 150k + business users and processing more than 1.2 million employee records per month, Ramco HCM and Global Payroll abides by statutory and taxes across 40+ countries, including New Zealand.
Ramco is smplifying HR strategy through simplification and is focused on Innovation and culture to differentiate itself in the marketplace. Ramco HCM and payroll is the most complete, yet refreshingly simple next-gen software covering 360⁰ life cycle of an employee from hire to retire. Why is Ramco the preferred partner for 450+ customers worldwide?
Ramco's HCM automates the HR transactions and drives business benefits across functions with a Scalable & Unified platform, that means no more point solutions
Your employees will be delighted with our simple and easy to use interfaces
With payroll compliance across 40+ countries, Ramco payroll platform has the capability to address 70% of the world's working population
Offered on Cloud & on Mobile, aligning your employees to your organization goals becomes a reality
Ramco HCM stays ahead in the TECHNOLOGY space with innovations driven Mobility, Conversational Chatbots and Pulse Surveys
Ramco HCM integrates seamlessly with existing enterprise business applications
Ramco Systems – Winner of the Vendor of the Year Award 2016 (Best Payroll and Talent Management) by global payroll association | ISG (Information Services Group) Award for Innovation 2015 | Recognized as a Leader in Global Payroll by NelsonHall | Winner of HR Vendor of the Year Award – APAC 2015
Visit Ramco – www.ramco.com
To know how we can help you create business value for your organization, mail us at [email protected]
EXHIBITORS AT THIS YEARS CONFERENCE
More exhibiters to come shortly…
CONFERENCE START AND FINISH TIMES
The conference will run from 9 am to 5 pm on 9th Nov followed by a networking function (5.30 pm to 8.30 pm). The timing for the 10th Nov will from 7.20 am to 8.30 am (Breakfast event) and the conference programme from 9 am to 3 pm (so attendees from out of town can get flights home).
Free Shuttles from Airport
For out of town delegates NZPPA will provide FREE Shuttles from the airport to the venue on the first day of the conference and on return on the Friday afternoon when the conference ends.
THIS YEARS CONFERENCE LOCATION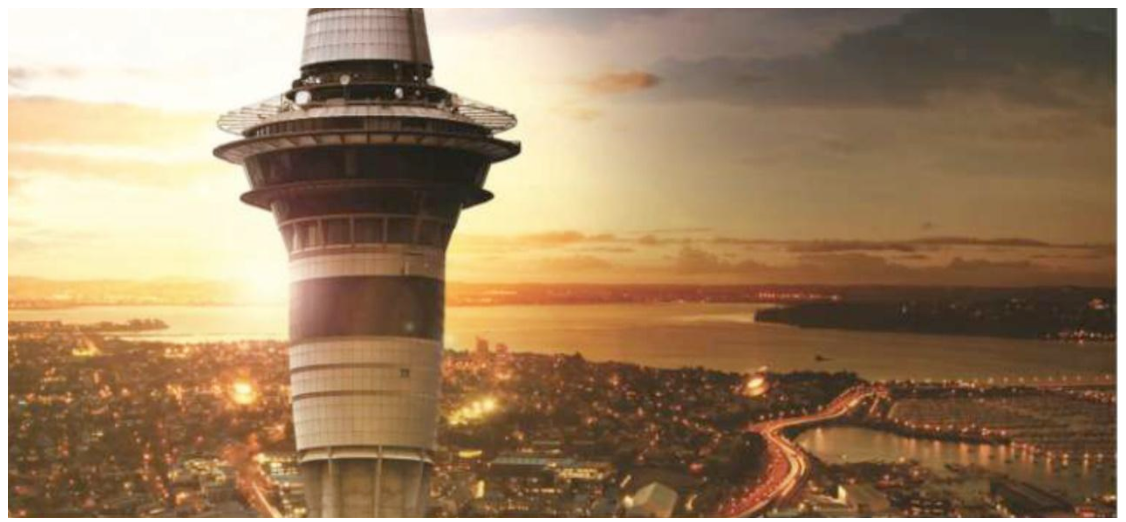 SKYCITY Auckland Convention Centre
88 Federal Street, Auckland
Located in the heart of Auckland's CBD, the SKYCITY Auckland Convention Centre has long been recognised as one of Auckland's premier event destinations for both local and international events.
With its diverse offering of two hotels, numerous restaurants and bars, the iconic Sky Tower, and over 21 purposely designed convention rooms across two floors providing both scope and flexibility for groups from 20 to 2000 persons, the venue is uniquely qualified to provide an exciting destination for the conference.
The conference payroll expo will be situated next to the main conference area via a foyer and can also be accessed from a main thoroughfare.
Other NZPPA Events happening at this year's conference
We will be running two other NZPPA events during the conference:
NZPPA Networking Event 5.30 pm to 8.30 pm (9th Nov)
As this is our 10th year of running our annual conference we wanted to do something special so the evening of the first day so you can relax and network with your payroll colleagues. NZPPA is famous for providing entertainment of various forms at the networking event so be ready to have some fun!
NZPPA Breakfast Event 7.25 am to 8.30 am (10th Nov)
Every conference we have a special focus session on morning before the main conference programme begins. This is so you can enjoy a hearty breakfast while hearing a range of speakers on a special payroll topic or related area.
Please find the booking links below for out of town attendees that wish to stay at the accommodation provided at the conference venue. You can get a 10% discount off Best Available rate . Please note the link is only for the event period and 3 days pre/post the trade-show.
SKYCITY Hotel:
Conf 10% OFF- http://bookings.ihotelier.com/bookings.jsp?hotelid=10736&rateplanid=2521777
SKYCITY Grand Hotel:
Conf 10% OFF- http://bookings.ihotelier.com/bookings.jsp?hotelid=10924&rateplanid=252287
CONFERENCE FEES (all rates are GST exclusive) 
NZPPA always tries to provide exceptional value for money at the annual conference and if you want to more than on attendee we can offer additional discounts, please contact: [email protected]
All attendees paying for the two-day conference fee will receive:
Gift Pack
Access to all conference additional events (networking event 9th Nov and breakfast event 10th Nov)
All of out of town attendees can use the FREE airport shuttles available for pick up on the 9th Nov and drop off on the 10th Nov
Conference rates (All Conference rates are GST exclusive):
| | |
| --- | --- |
| Rates | Description |
| $750.00 | Member rate for the two-day conference. |
| $1050.00 | Non-member rate for the two-day conference. |
One-day conference rates:
Like last year's conference if you just want to attend one day of the annual conference (you pick which day):
| | |
| --- | --- |
| Rates | Description |
| $425.00 | Member rate for one-day. |
| $725.00 | Non-member rate one-day. |
* NZPPA training vouchers cannot be used for the NZPPA conference.