The third annual NZPPA National Payroll Week (NPW) is being held on the 7 Nov – 11 Nov 2011.
What is the NZPPA National Payroll Week?
National payroll week is for the purpose of raising awareness of the important role payroll plays in the everyday lives of the NZ workforce, business and the wider community.
Payroll is one of the most highly regulated operations of any business. Compliance with a complex legislation, terms and conditions of employment and business policy is critical in payrolls success.
Payroll is an extremely important component of every worker's life. Yet the processing of this crucial transaction is something many employers and workers take for granted.
Despite these challenges, payroll professionals calculate each pay accurately and on time, every time. For this, we salute all payroll professionals during National Payroll Week 2011.
National Payroll Week will become an annual event for NZPPA because if links with one of the fundamentals aims of NZPPA the "recognition of payroll professionals".
Download NZPPA NPW 2011 Poster
Gold Sponsors

More information – More accuracy – More time for what really matters!
Affinity automates repetitive processes to reduce the manual effort and intervention, Payroll, HR and Finance people provide to accurately pay people.
Our real time, date range driven system, allows the payroll department to provide the business with period end results across any date range, aligning payroll results with accounting period ends.
Our single source database has inherent reliability. Innovative matrix reporting tools means that reports that incorporate complexity are simple to build without the need for support or customisation.
Want less stress and leave work on time –come talk with Affinity!
Contact: Brett Couch, General Manager Business Development NZ
Phone: NZ 0800 729 633
DDI: NZ 09 980 5964 |
Mobile: NZ 021 675 834 |
WEBSITE: www.affinityes.com
Sponsors
PayGlobal has been supporting payroll professionals in New Zealand for over 20 years. Their new product, Exolvo, is adaptable, easy to use and designed to provide a solution to meet your payroll needs. Their suite of payroll and HR management software is proven and trusted and they provide you with an integrated suite of modules including workflow tools enabling strategic HR management and BI giving you meaningful payroll data at your fingertips. They also have a policy of continuous development and unrivalled support services.
Website: www.payglobal.com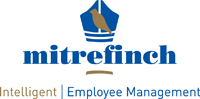 Is your Time and Attendance system delivering the results you were promised?
If not, maybe it's time you took a look at one that will!
Founded in 1979, Mitrefinch are leaders in the development of intelligent Employee Management and Time and Attendance solutions.
Used by almost 4,000 organisations around the world, and across a number of industries, Mitrefinch clients benefit from improved payroll accuracy, reduced labour costs, more efficient payroll and HR administration, superior planning and control of employee schedules and jobs, as well as accurate onsite reporting for health and safety.
Our Employee Management solutions include:
Time and Attendance
Mobile Workforce Management
Employee Self Service
Employee Scheduling
Time Allocation/Job Costing
Absence Management
Visitor Management and Access Control
We can also provide a range of different data capture options to suit your entire workforce:
Clocking Terminals: Choice of biometric, swipe card and proximity (industrial and waterproof casing available)
iPhone and mobile clocking solutions for staff on the road
Online Timesheets and PC clocking for office based employees, or those working from home
Biometric USB readers for sites with a small number of employees
Touch Screen Kiosks for shop floor data collection
Interested? To find out more visit us online today or drop us an email [email protected]
Contact Details: Jamie Fitzsimons, 09 363 9557

NorthgateArinso is a global HR solution provider supporting local, regional and global clients. With over 25 years experience in NZ, we provide a range of HR/Payroll solutions including OnPremise, OnDemand (Cloud) and Outsourcing. Established at Peterborough Software, we are the trusted HR partner for medium to large corporate organisations and government institutions within New Zealand.
To find out why leading New Zealand organisations have joined the NorthgateArinso family and why leading consultants such as IDC, Gartner and Everest Group rate us a no. 1 player in the HR market.
Contact Jason Black (09) 525 0515 email [email protected]
Supporters


The Myths of Payroll
To raise awareness we need to dispel the myths associated with payroll, here are just a few.
The Myths of Payroll
| | |
| --- | --- |
| "The system does it all" | There are automated and manual processes in payroll. No system can run payroll from end to end because payroll covers aspects of finance, employment law and IT. This is why payroll professionals are multi skilled. |
| "Data entry is all that payroll people do" | Data entry can be a big task for payroll professionals if time and attendance is not being used. But understanding what has been entered and why is far more than mere data entry! |
| "Running a payroll is not rocket science" | All systems need to be set up and this is a complex task. You have to understand the system, legislation and the terms and conditions of employment when setting it up for all the different employee types the business has. |
| "Payroll people have little to do once payroll has been processed" | Payroll communicates on the businesses behalf to a range of government departments. Payroll answers numerous staff enquiries from employees and their managers, runs reports, conducts checks, processes paperwork and many other activities. There is no quiet time! |
| "Payroll can process a pay anytime" | Payroll is deadline driven, payments cannot be done anytime. There is also a cost to payroll every time a payment is made. This can be the cost of using an external payroll provider or the actual payroll professionals time away from doing other scheduled payroll activities. |
The Problems for Payroll (where the business can help)
"Payroll is the last to know when staff leave"
If managers don't tell payroll that an employee has left the business (terminated) there is no way they can know. There have been horror stories of staff been paid for months after leaving because no one told payroll.

Payroll must be kept in the loop so these mistakes that should not happen wont.

"Payroll decisions are made without knowing what payroll can and cannot do"
In any decision to pay an employee payroll should be firstly consulted to ensure that the system can actually do what is wanted and if the payment meets legislative requirements.
"Employee payroll documentation not provided or not completed fully"
Payroll has to ensure that documentation that is required by legislation and also to verify that payments have been made or approved (by the employer and employee).
Getting Involved with NPW 2011
For our third year of running NPW we really want to continue on raising the profile of payroll.
The 2011 NZPPA NPW campaign will contain two elements:
NZPPA NPW Poster
NZPPA will print an A3 sized poster for payroll professionals to display in their workplaces to make their employers more aware of the important role that payroll plays.
The posters will be made available in the following ways:
Posters sent via post to NZPPA members
The ePayroll newsletter will invite all subscribers to download a poster
Sponsors are also encouraged to distribute the posters to their clients
If you want to be put on the list to get a NZPPA NPW poster (available three weeks prior to the NPW) you can order by contacting: [email protected]
If you can take a photo of you with the poster and send it through to us we will put you into a draw for $200 worth of NZPPA training vouchers.This e-mail address is being protected from spambots. You need JavaScript enabled to view it
If there is another activity or group you can suggest we contact to make the NZPPA NPW a success we want to hear from you. Please contact: [email protected]
This e-mail address is being protected from spambots. You need JavaScript enabled to view it
*NZPPA NPW 2011 Poster will be available soon watch this space
2011 NPW Writing Competition – Write the feature article for the first issue of NZPPA official publication " Pay And You – PAY"
During the NZPPA NPW, we will be encouraging people to celebrate their profession and spread the word about the important role payroll plays in the organisation.
To encourage people to participate in the NZPPA NPW, we will be running the following competition.
Write A Feature Article
We are asking payroll professionals to write an article on the following topic: Why Payroll is a Profession
Criteria for the article:
The article should promote payroll as a profession, clearly stating why it is a profession and not just a job.
The article should be 1200 to 1500 words.
Provide a photo of their self to be included with the article.
Agrees to provide the article for use by NZPPA.
*Article must be received by the 28 October 2011.
The winner will receive $350 worth of vouchers of your choice. The winner will be announced at the start of NPW on the 7 Nov 2011.