The New Zealand Payroll Practitioners' Association conference will be held on Thursday 18th and Friday 19th September 2008.
NZPPA Conference Sponsors
NZPPA has been very fortunate to get the support of quality sponsors for our conference.
Our Platinum Sponsor is ADP Employer Services, who, with nearly $8 billion in revenues and over 600,000 clients, is one of the world's largest providers of business outsourcing solutions.
Our Gold Sponsor is PayGlobal — the fastest-growing people management software company in Australasia. PayGlobal has been developing, implementing and supporting people management solutions for 15 years.
To find out more about the sponsors of our conference go to NZPPA Conference Sponsors.
Important conference news — prices DROP
The prices for the conference have DROPPED (see the new prices at the bottom of the page). We have done this because of the hard times businesses are going through and to make the conference more affordable for payroll professionals in small- to medium-sized organisations.
Anyone who has already booked will get a refund for the difference in the rates. We are also extending the early bird rates until 18 July 2008.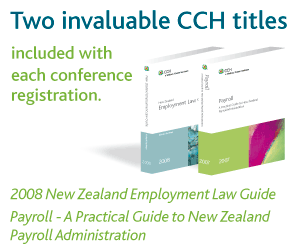 Each conference attendee will receive a free bundle of payroll-related books from CCH:
2008 New Zealand Employment Law Guide
Payroll – A practical Guide to New Zealand Payroll Administration
Click here to download the NZPPA Conference brochure: Download conference brochure.
The conference will be held at the Bruce Mason Centre, Cnr Hurstmere Rd & The Promenade, Takapuna Beach, North Shore City.
How to find the Bruce Mason Centre:
http://www.bmcentre.co.nz/How-to-Find-us.asp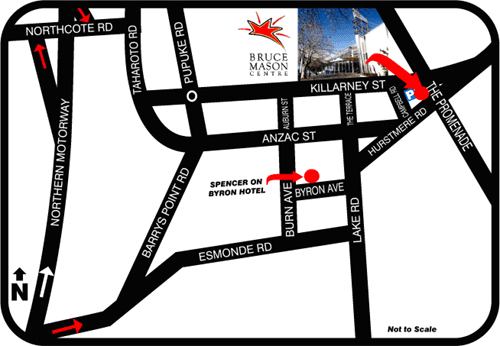 Click here for accommodation details in Takapuna
This conference is for payroll people, it's run by payroll people and any profit from the conference will be invested back into the activities that support payroll practitioners in New Zealand.
Initial information on the conference is provided below. Please note that this web page will be updated on a regular basis as details are finalised.
Conference Outline
The proposed conference theme will be the 'Payroll in Motion' for the industry (focus on the changing role of payroll, technology and environment).
Go to the Conference Agenda to see the provisional conference programme.
It is expected that the conference will run from 9 am to 5 pm on 18th September followed by networking, drinks and supper. Timings for the 19th will be from 9 am to 4 pm.
Call for Conference Papers
The New Zealand Payroll Practitioners' Association (NZPPA) invites companies, organisations and individuals who are interested in presenting at the 2008 Annual Conference to submit an abstract or short paper outline for consideration.
NZPPA is a new organisation with the aim of developing payroll practitioners in New Zealand. This will be our first conference and we are committed to making it the premium payroll event in New Zealand from this point forward. The target is to have 200-plus payroll practitioners attending this year's conference along with vendor displays.
Some key areas of interest for conference papers are listed below, but interested parties are invited to submit papers for consideration on any topic that they believe is relevant to the industry. Time slots for presentations of 25 to 45 minutes will be available. We may also choose to run parallel programme streams if we think this may be appropriate.
Outlines or abstracts for proposed papers, together with some general background information on the authors/presenters, should be submitted by 30 June 2008. NZPPA will also be approaching certain companies and organisations directly to request papers. We expect to confirm the accepted papers by 30 June 2008.
Click here to download the proposal outline document..
Proposals should be sent by e-mail to [email protected]. Direct any questions to NZPPA's Chief Executive, David Jenkins, at [email protected] or +64-27-663-0620.
Possible topics of interest:
Legislation and Compliance
Managing Payroll
Compliance HR and Payroll
Technology
Government
Benefits and Compensation
Employee Relations Management
Global Payroll Issues and Trends
Personal and Professional Development
Payroll Best Practices
Management Strategies
Case Study
Vendor Exhibition Opportunity NZPPA Conference 2008
For payroll providers (software and service) the NZPPA conference provides an opportunity to gain access to payroll practitioners.
Vendor registration includes the following:
Booth (to be confirmed) available for the two days of the conference.
Full access to the conference for two company representatives.
Company logo and website link to be included on the website (conference page) and in all advertising material for the conference.
Include company promotion materials in the conference packs.
The ability to sponsor specific parts of the conference (extra cost).
Provide a paper and presentation at the conference (not product- or service-related). Must meet conference requirements.
After 30th June 2008 the cost is $3500.00 plus GST.
Please click here to download a sponsorship pack.
If you do not want a booth but still want to be involved in the NZPPA conference, please contact [email protected].
NZPPA Conference Gifting
The New Zealand Payroll Practitioners' Association (NZPPA) has recognised that Payroll practitioners working in the not-for-profit sector would especially benefit from attending the NZPPA conference because of the professional development and networking opportunities it will provide.
To find out how to help them attend, go to the NZPPA Conference Gifting Programme.
Conference Fees
These new, low prices include GST.
NZPPA Conference Fees

| Full Rates | |
| --- | --- |
| $950.00 | Member rate for two-day conference. |
| $1250.00 | Two-day conference. Includes NZPPA membership for one year. Does not include Corporate membership in this price*. |
Conference Bookings