NZPPA are the innovators and leaders in developing opportunities for the development of the payroll profession in New Zealand. We continue this proud tradition with providing this annual event for Payroll Leaders.
The "Payroll Leaders' Summit has the aim to:
Provide a specific forum for payroll leadership to learn new skills they can apply to their workplace.
Create networking opportunities among their peers in the payroll industry.
Help upcoming payroll leaders to move into senior positions either within their own organisation or as part of their career in the payroll industry.
The summit will be an annual event but each year it will rotate to another city. In 2016, it missed a year so in 2018 it will run in Christchurch.
The focus of this one day event is to have speakers from the payroll industry with proven creditability talk to their peers, passing on insights and knowledge to be shared within the payroll profession.
This event will suit:
Existing payroll managers and team leaders
Upcoming or new payroll managers and team leaders
Managers of payroll staff that want to get a better understanding of how to effectively lead payroll staff.
This is a payroll conference created and run by payroll people!
As this niche event and has limited seats (60) please book early to save your seat!

This year's theme:

Payroll has been in the firing line from a range of quarters in relation to the issues coming from the Holidays Act (not payrolls fault). Employers are now wanting to know and feel confident that payroll is compliant with all legislative requirements.
"For all payroll leaders ensuring your payroll is compliant should be high on your list of priorities for best practice".
It is important to ensure payroll is based on a Best Practice methodology not just for compliance but to ensure payroll can be measured, assessed and can show it is a cost effective and a productive part of the business.
But what is "Best Practice Payroll" and how do we achieve it?
The purpose of this year's Payroll Leaders Summit is to give you the answers or at the very least ideas on how you can create a best practice payroll for your organisation.
During the course of the day attendees will be able to hear from 9 SME's that will cover a range of topics related to Best Practice, including (subject to change):
What is best practice, benching marking and other jargon used in this area?
What has been developed and can be used for NZ Payroll now?
How to develop a best practice payroll, what are the steps?
What are the key areas of compliance that payroll must ensure are covered for best practice?
How to develop best practice, policy, processes and procedures?
How can payroll suppliers help in assisting your payroll in developing best practice payroll?
How best practice is documented, promoted and becomes part of the payroll culture for payroll?
How to get your payroll team on board with best practice payroll?
What are the expectations of government departments/agencies in relation to best practice for payroll?
At the end of each presentation our SME's will be open to questions from attendees and we will be doing a follow up to the group of any questions raised that could not be answered on the day.
Attendees will get a copy of all presentations on a flash drive (with the permission of the SME).
Start and end time for conference:
Conference registration opens at 8.15 am with the conference starting at 9am and wraps up at 4.40 pm.
This Year's Payroll Leaders Summit Speakers
NZPPA always tries to provide SME's that allow attendees to walk away with ideas, plans and insights they can apply back in their workplace.
Keynote Presentation and Workshop Session
NZPPA is very happy to announce that Dr Robin Mann has agreed to provide our keynote presentation as well as a workshop activity at this year's summit. This benchmarking is a powerful method for breakthrough thinking, innovation and for delivering exceptional bottom-line results. Benchmarking is "the comparison of performance data that has been obtained from studying similar processes or activities and identifying, adapting, and implementing the practices that produced the best performance results".
Benchmarking for
Best Practices in Payroll Systems

Dr Robin Mann
Director, Centre for Organisational Excellence Research,
Chairman, Global Benchmarking Network
New Zealand
This presentation and workshop will:
Explain the importance of benchmarking and why benchmarking, when undertaken correctly, is the most powerful change management tool.
Describe what are best practices and how to identify and implement them
Describe the TRADE Best Practice Benchmarking methodology – invented in NZ and has now become the preferred methodology for the Singapore Public Sector and the Dubai Government Excellence Programme.
Provide examples of benchmarking projects and reveal how they have impacted on innovation and business results.
Provide ideas on how the New Zealand Payroll Practitioners Association and its members can use benchmarking to improve payroll management and processes.
Include a practical session on best practices in payroll.
Dr Robin Mann is the Head of the Centre for Organisational Excellence Research, New Zealand, www.coer.org.nz, Chairman of the Global Benchmarking Network, www.globalbenchmarking.org, and Co-Founder of BPIR.com Limited, www.bpir.com – a leading benchmarking website resource. Robin's experience includes managing the UK's Food and Drinks Industry Benchmarking and Self-assessment Initiative (1995-1998), New Zealand Benchmarking Club (2000-2004), Sheikh SAQR Government Excellence Program, UAE (2005-2007), reviewing the Australian Business Excellence Framework (2006), chief expert for APO's project on business excellence in Asia (2009-2011), developer of the TRADE best practice benchmarking methodology (2004) which became the cornerstone of Singapore's JumpStart Program (2006-2008) and Dubai We Learn (2015-2017) and founder of the International Best Practice Competition, www.bestpracticecompetition.com, (2012) and Organisation-Wide Innovation Award (2017). Robin worked in Edinburgh (1992-1995) for Burton's Biscuits as a process improvement manager and obtained his PhD in TQM at Liverpool University in 1992. Robin was awarded the Harrington/Ishikawa Medal in 2011 for contributions to the advancement of quality in the Asia Pacific region.
Other Summit Speakers
Speaker: Chris Mar (Manager – Strategy & Compliance, Datacom Employer Services)

Title for Presentation:
Payroll Operating Procedures

Bio: Chris has been with Datacom for nearly two decades and was the driving force behind the successful construction and implementation of Datacom's Enterprise Payroll product DataPay as well as being the lead behind the rejuvenation of our 15 year old Cloud Payroll system NetPay, specifically designed for the SME market.

Chris now works on our business strategy and, in particular, the legislative compliance of Datacom's payroll products and services. Chris is on several government working groups related to tax calculations and employment law in Australia and New Zealand.

Speaker: Justin Ryan. Director EzyPay Limited
Title for Presentation: The three Ps for payroll success'

Justin Ryan is the Director of Christchurch based, Payroll Management firm Ezypay Limited. He has been involved directly with payroll since stumbling into the industry straight out of University. Various roles included Sales, Implementation and Training on the Comacc Payroll (now MYOB EXO), Sales & Bureau Management at PayGlobal and for the past 10 years he has bene fulltime with Ezypay.

When not working he enjoys the odd Craft Beer and you will often see him out on his motorbike, he keeps one in both Hemispheres.

Speaker: Simon Gallagher, CFO Drake Australia/ MD Drake Allegiance
Title for Presentation: Transformation through NextGen Payroll solutions

Bio: Simon is an international Finance senior executive who is motivated by transformational change and improving overall performance of the business. Simon has nearly 20 years of experience working in both emerging and developed markets (USA, South Africa, UK, Australia and New Zealand). A large part of his experience has been gained in global conglomerates in various industries (HR services, financial services, Oil & gas, and NFP). He is a hand on senior Finance and IT leader with proven track record of managing large scale business transformational projects as well as advising multiple boards of directors.

Speakers: Colleen Kautai & Jonathan Clifford, IRD
Title for Presentation: How Inland Revenue's business transformation will help to drive best practice.

Colleen Kautai joined Inland Revenue in 2015 as a Business Change Advisor preparing the Large Enterprises business unit for business transformation. In March 2017, Colleen moved into the business transformation programme as an Account Manager focusing on the Government segment. Before her time at Inland Revenue, Colleen worked in multiple government agency roles covering procurement, contract and grant management, IT service delivery and change management, including managing the complex payroll transition for the Ministry of Education.

Jonathan Clifford joined Inland Revenue 14 years ago and for the first few years held a range of leadership roles in the Contact Centre and Community Liaison environments. More recently Jonathan has managed Inland Revenue's Liaison team managing relationships with Software Developers and Tax Professional bodies. Jonathan is now the Account Manager for Payroll Developers for Business Transformation.

Speaker: David Jenkins, NZPPA CEO

Title of Presentation: Critical checks to ensure compliance with the Holidays Act 2003

Bio: David has been involved in payroll for well over 20 years and formed NZPPA back in 2007.
He loves payroll people and is committed to gaining recognition for the important work payroll professionals do and in getting payroll seen as a profession in New Zealand.

David is the author of the NZPPA Payroll Practice Guide and designs all NZPPA training and resource material along with supporting the PayTech AdviceLine. David is the chief auditor for NZPPA and has in that role audited some of the largest and most complex payrolls in New Zealand.
3rd Annual Payroll Leaders Summit Programme
To see the summit programme click here
Sponsors of this year's Leadership Summit
Without sponsors NZPPA could not be able to run the range of events at the subsidised rate for our members, we appreciate the support in development the payroll industry in New Zealand.
Platinum Sponsor

Datacom Payroll has been the payroll provider for thousands of Australasian businesses for 50 years.
We write our own software and run our own systems. Our cloud based payroll suite offers payroll solutions to suit every business size and complexity. Whether a small, medium or large business; we really do have a payroll system just right for an organisation.
NetPay® – Simplified payroll for small businesses.
EasiPay® – Outsourced payroll for businesses of all sizes.
DataPay® – Sophisticated payroll and HRIS software.
Our software developers continuously improve on our applications making them simpler and more effective. No hardware or software to buy and no upgrades to install; every time you connect to one, you will be using the latest version of our software.
All underpinned and supported by New Zealand's largest information technology company.
Phone: 0800 72 97 97
Email: [email protected]
Website: www.datacompayroll.co.nz
Gold Sponsor

Part of the USD 1 billion Ramco Group, Ramco Systems is one of the fastest growing software companies which provides a uniquely integrated software covering core HR, Time & Attendance, Talent, Recruitment, Planning & Analytics along with NZ Payroll solution. Trusted by 450+ customer organisation globally, supporting 150k + business users and processing more than 1.2 million employee records per month, Ramco HCM and Global Payroll abides by statutory and taxes across 40+ countries, including New Zealand.
Ramco is smplifying HR strategy through simplification and is focused on Innovation and culture to differentiate itself in the marketplace. Ramco HCM and payroll is the most complete, yet refreshingly simple next-gen software covering 360⁰ life cycle of an employee from hire to retire. Why is Ramco the preferred partner for 450+ customers worldwide?
Ramco's HCM automates the HR transactions and drives business benefits across functions with a Scalable & Unified platform, that means no more point solutions
Your employees will be delighted with our simple and easy to use interfaces
With payroll compliance across 40+ countries, Ramco payroll platform has the capability to address 70% of the world's working population
Offered on Cloud & on Mobile, aligning your employees to your organization goals becomes a reality
Ramco HCM stays ahead in the TECHNOLOGY space with innovations driven Mobility, Conversational Chatbots and Pulse Surveys
Ramco HCM integrates seamlessly with existing enterprise business applications
Ramco Systems – Winner of the Vendor of the Year Award 2016 (Best Payroll and Talent Management) by global payroll association | ISG (Information Services Group) Award for Innovation 2015 | Recognized as a Leader in Global Payroll by NelsonHall | Winner of HR Vendor of the Year Award – APAC 2015
Visit Ramco – www.ramco.com
To know how we can help you create business value for your organization, mail us at [email protected]
CONFERENCE VENUE FOR THE PAYROLL LEADERS' SUMMIT 2017
The 3rd Annual Payroll Leaders Summit will be held at the Terrace Conference Centre, Wellington.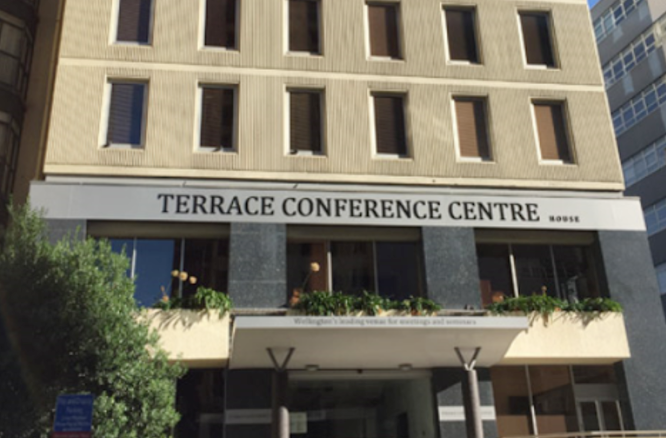 The venue is conveniently located in Terrace Conference Centre House 114 The Terrace, in the heart of Wellington's CBD.
Carparking
The Clifton street carpark is directly behind the building and offers earlybird parking up until 9:00am.
For a map to the venue click here
CONFERENCE COST:
NZPPA always provides conference events that are value for money and attendees get all the trimmings included, conference a provided a top
NZPPA members: $675 + GST
NZPPA Non-members: $975 + GST
All attendees will receive a conference pack, notes, morning and afternoon tea and a catered lunch.
We can provide a discount for 2 or more attendees, to find out more information please contact [email protected]