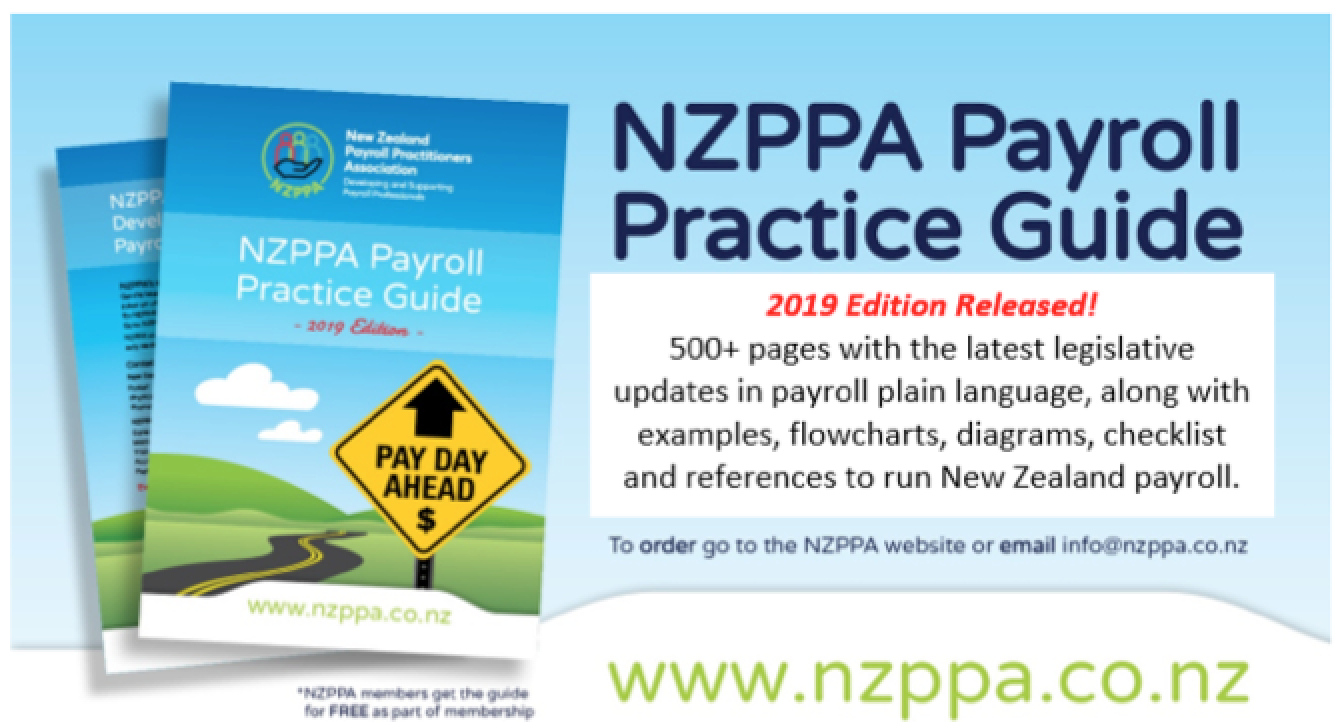 The NZPPA Payroll Practice Guide is a payroll resource developed by payroll experts for payroll people. It is written in plain language from a payroll perspective and is full of practical examples, checklists and important points to keep in mind when you are working with and processing payroll.
The NZPPA payroll practice guide is a payroll reference and does not try to cover other non-payroll activities. It also does not cover all payroll situations outside the scope of legislation but does provide advice on how many of these areas can be effectively managed.
What's covered in the NZPPA Payroll Practice Guide?
At just over 500+ pages of material, the NZPPA Payroll Practice Guide is a valuable resource for anyone managing or running NZ payroll.
There are eight main sections of the guide:
Managing Payroll
Taxation Law
Employment Law Part 1: Employment Terms
Employment Law Part 2: Employee Leave
Payroll Records and Privacy
Other Laws Related to Payroll
Calculating a Final Pay
Additional
Each section consists of a section summary along with a checklist at the end of the section of important points to follow up on.
Other features of the Practice Guide:
The guide is filled with fully worked
references, links, checklists and sample
Definitions of terms and explanations in plain language related to payroll are provided throughout the
The guide is linked to its own special portal on the NZPPA website where updates can be accessed and
Subscribers get access to the latest updated online version of the
What's in the 2019 edition:
New Domestic violence leave section
Updated 1st April changes
Payday filing
Changes to the Employment Relations Act
Updated reference and links to external resources.
Updated and additional sections added throughout.
Cost of the NZPPA Payroll Practice Guide
NZPPA members:
NZPPA members can access the guide online for FREE as part of membership but can also obtain a physical copy at the substantially reduce price of $67.50 + GST (postage paid anywhere in NZ, parcel tracked), $87.50 + GST (postage paid anywhere in AU, parcel tracked).
Other discounts for multiple copies are (in NZ only):
2 x guides ($85 + GST)
3 x guides ($120 + GST
4 x guides ($150 +GST)
*for additional copies contact NZPPA
To order email: [email protected]
For member orders to Australia please email: [email protected]
NZPPA Non-members:
Cost for NZ based deliveries (parcel tracked):
1 x guide ($105 + GST)
2 x guides ($150 + GST)
3 x guides ($220 + GST)
4 x guides ($280 + GST)
*for additional copies contact NZPPA
To order email: [email protected]
For non member orders to Australia please email: [email protected]