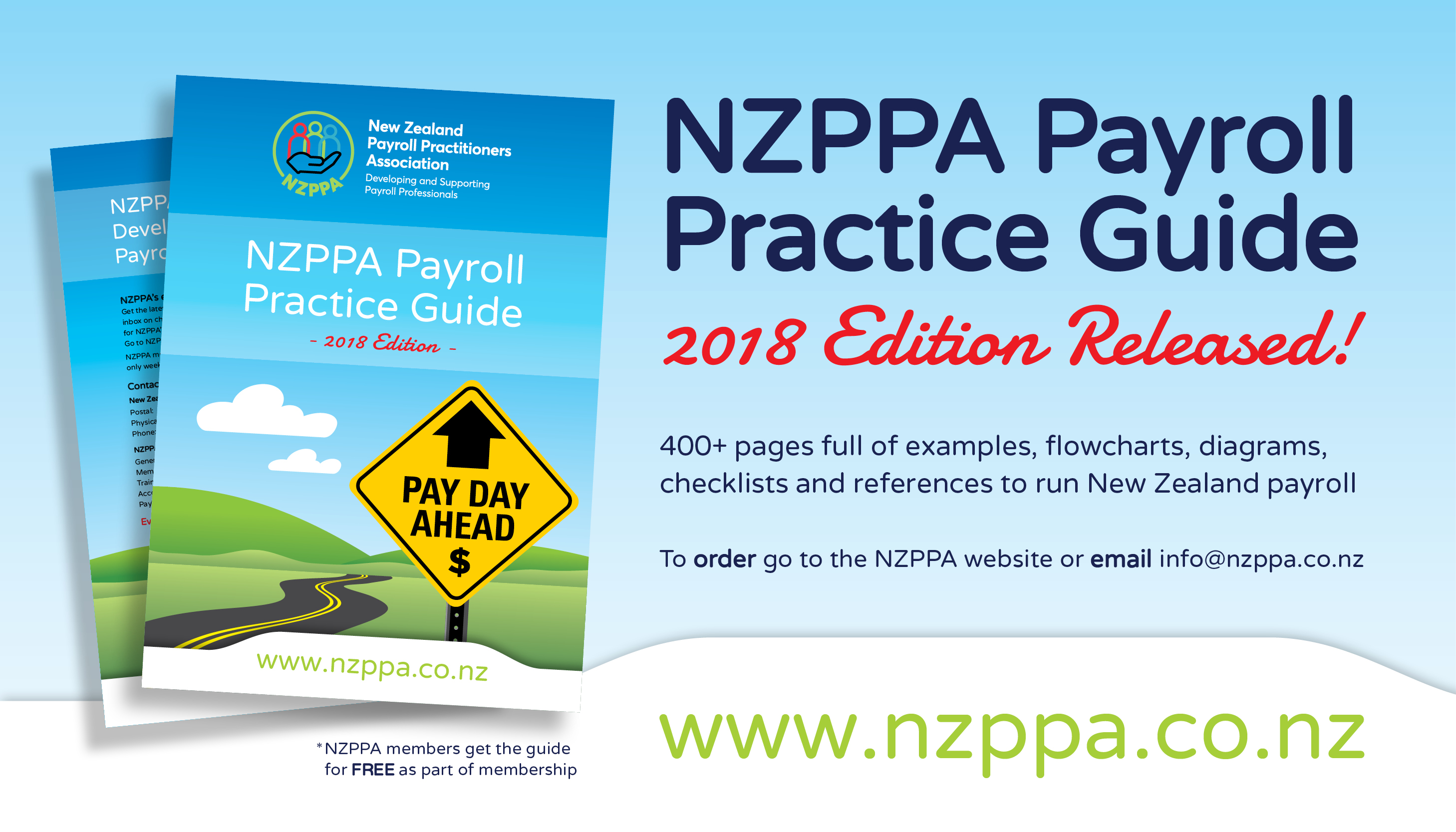 HAVE YOU GOT YOUR COPY OF THE NZPPA PAYROLL PRACTICE GUIDE 2018?
NZPPA is the largest and longest running payroll body in New Zealand with over 1300+ members since being formed in 2007!
We provide advice and support for payroll throughout New Zealand and internationally on a daily basis (anywhere NZ payroll is processed).
The NZPPA Payroll Practice Guide is a payroll resource developed by payroll SME's for payroll people. It is written in plain language from a payroll perspective, full of practical examples, checklists and important points to keep in mind when you are working with and processing New Zealand payroll.
Payroll information is based on a lot of legislation, practices and processes all of which includes interpretation of changes frequently the aim of our guide is to make sense of this.
The NZPPA Payroll Practice Guide is released every year with any changes made to legislation along with more examples, checklists and resources to aid payroll practitioners in processing their payroll.
For NZPPA members the NZPPA Payroll Practice Guide is FREE (online version) available through the NZPPA Members Only Portal and means if the guide is updated the latest edition is always available for their use. NZPPA members can also order a physical copy at a reduced rate (see later section).
For NZPPA non-members the guide can also be accessed online as a paid subscription or purchased as a physical copy (see later section).
What's covered in the NZPPA Payroll Practice Guide?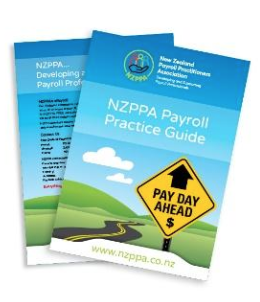 At over 450+ pages of material the NZPPA Payroll Practice Guide will become a valuable resource for any payroll practitioner. There are ten sections of the guide being:
Managing Payroll
Taxation Law
Employment Law Part 1: Employment Terms
Employment Law Part 2: Employee Leave
Other Laws Related to Payroll
Payroll Records and Privacy
Other Laws Related to Payroll
Calculating a Final Pay
What's on the Horizon for Payroll
Additional Resources
Other features of the practice guide:
The guide is filled with fully worked calculations, references, check lists and sample forms along with numerous links to other external resources.
Definitions of terms and explanations in plain language related to payroll are provided throughout the guide.
Getting the latest updates as they happen (Online version)!
Changes in payroll happen often and the NZPPA Payroll Practice Guide (Online version) will be kept up to date as and when changes are confirmed. NZPPA members get access to the online version for FREE and non-members can pay for the subscription. All NZPPA members & subscribers will be emailed when a new updated guide is available.
Cost of the NZPPA Payroll Practice Guide
NZPPA members:
Physical copy of the guide:
$37.50 + GST (for New Zealand based members)
$62.50 + GST (for Australian based members). Please note: for any other international location additional postage may apply.
NZPPA Non-member:
Online portal: access to the online version of the NZPPA payroll practice guide for a 12-month period from the date of subscription. Access to any updated guide during this period or new guide if published during year. Also access to previous guides from previous years. Cost of 12-month subscription is: $175 + GST
Anywhere in New Zealand: $235 + GST (parcel tracked)
Australia: $260 + GST (NZD) (parcel tracked)
Other International location: $235 + postage (please contact NZPPA for the cost of postage: [email protected])
How to order:
NZPPA Non-members:
12-month online subscription to the guide, click here
Physical copy NZPPA Members & Non-Members:
Get the payroll resource written by the Payroll Experts!