NZPPA Payroll Masterclass Workshop (Level 5)
For
Payroll professionals that want to cover the full spectrum of payroll topics in a 2-day workshop format based on the latest NZPPA Payroll Practice Guide.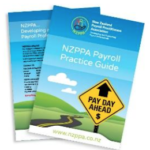 The workshop is also aligned to the NZPPA Certification framework (levels 2-5) and will prepare participants to undertake the online assessment requirement of certification.  To find out more on NZPPA Certification click here. 
Workshop entry requirements
Prerequisite: After 12 months in a full-time payroll position (must have completed: Payroll Foundation Skills, Payroll Law and Payroll Calculations or can show extensive practical payroll experience)
Course delivery
The Payroll Masterclass is delivered as a workshop and within each module participants will be involved in doing exercises and activities related to the topic along with an end of module assessment activity.
Duration
2 days
Course Content
NZPPA Payroll Masterclass Workshop is based on the NZPPA Payroll Practice Guide and over two days will cover 8 modules, being:
Managing Payroll

Taxation Law

Employment Law Part 1: Employment Terms

Employment Law Part 2: Holidays and Parental Leave

Other types of employee leave

Payroll Records and Privacy

Other Laws Related to Payroll

Calculating a Final Pay
All attendees receive a physical copy of the NZPPA Payroll Practice Guide valued at $275 + GST. To find out more on the NZPPA Payroll Practice Guide click here.
Assessment and end of workshop certificate
Each module of the Payroll Masterclass has an end of module assessment activity and participants have the option to do these as a self-assessment or to have workshop leader assess their work submitted.  All participants will receive a NZPPA Certificate of Attendance.  If a participant chooses to have their end of module activities assessed they will receive if successful a "NZPPA Payroll Masterclass Certificate of Competence".
Member Price:
NZ$

1,150.00
+ GST
Non-member Price:

NZ$

1,495.00 + GST
If you are an NZPPA Member, logon to get member pricing
---