GO TO THE NEXT LEVEL AS A PAYROLL PROFESSIONAL – NZPPA PAYROLL MASTERCLASS WORKSHOP (LEVEL 5)

For: Payroll professionals that want to cover the full spectrum of payroll topics in a 2-day workshop format based on the latest NZPPA Payroll Practice Guide.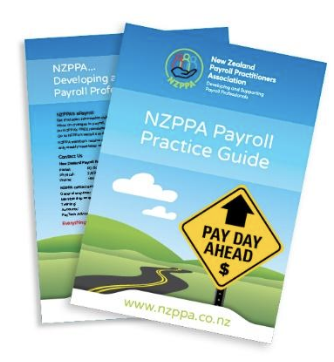 The workshop is also aligned to the NZPPA Certification framework (levels 2-5) and will prepare participants to undertake the online assessment requirement of certification. To find out more on NZPPA Certification click here.
The masterclass is great for the development of your whole payroll team – get everyone reading from the same page?
Contact NZPPA if you want to run Masterclass onsite, email: [email protected]
Course delivery
The Payroll Masterclass is delivered as a workshop and throughout the course participants will be involved in doing exercises and activities related to the topic along with an end of course practice assessment for preparation to undertake NZPPA certification or just to gain the masterclass course certificate.
Course Content
NZPPA Payroll Masterclass Workshop is based on the NZPPA Payroll Practice Guide and over two days will cover 8 modules, being:
Managing Payroll
Taxation Law
Employment Law Part 1: Employment Terms
Employment Law Part 2: Holidays and Parental Leave
Other types of employee leave
Payroll Records and Privacy
Other Laws Related to Payroll
Calculating a Final Pay
All attendees receive a physical copy of the NZPPA Payroll Practice Guide To find out more on the NZPPA Payroll Practice Guide click here.
Assessment and end of workshop certificate
This is an assessed course (you are assessed on your level of competence based on the 5 NZPPA certification levels).
All participants will receive "NZPPA Payroll Masterclass Certificate of Competence" that will state out of questions attempted what percentage was correct. NZPPA will also provide follow up information on areas that the participants need to work on for further development.
What do learners think of this course?
Fletcher Building's NZ payroll team are running payroll across multiple industries for one of New Zealand's largest employers with around 9,500 employees to pay weekly, fortnightly and monthly. Traditionally new payroll staff members were trained during a handover period and indeed historically in any payroll role knowledge was gained from inhouse training and we trusted that our trainer knew what they were teaching us. We recently put 27 payroll staff through NZPPA 2 day Payroll Masterclass and were blown away from what was learnt, what we as an organisation gained, the confidence our payroll team got and what myself as a leader of the payroll team was able to bring in to shape our payroll organisation for the future. One of our payroll team commented "it was amazing to have the Masterclass and assessment confirm that all my "hand me down" learnings were actually correct, in line with legislation and not just what I was told to do". Our payroll projects team identified a number of new optimisation initiatives and our compliance team identified areas to provide training to our business and we were able to stand up our payroll training and development pillars. Our payroll team now take ownership of payroll, they are the experts! I highly recommend NZPPA masterclasses for all payroll staff whatever the experience, level, technical capabilities or length of service.Cheryl O'Brien, Head of NZ Payroll and Credit Management & Debt Recovery, Fletcher Building